A Few Reasons That Make Custom Drawstring Backpacks Excellent Hand Outs All Round The Year
Drawstring bags are everywhere! Be it as holiday season gifts, school bags, gym bags or weekend ramble bags, these trendy and casual bags will fit the bills of all possible toting needs. Marketers looking for a budget friendly gift idea that will get a lot of attention can place their bets on these simple yet highly functional bags that stand out for its unique drawstring cord closure that will ensure a retro charm to these logo bags.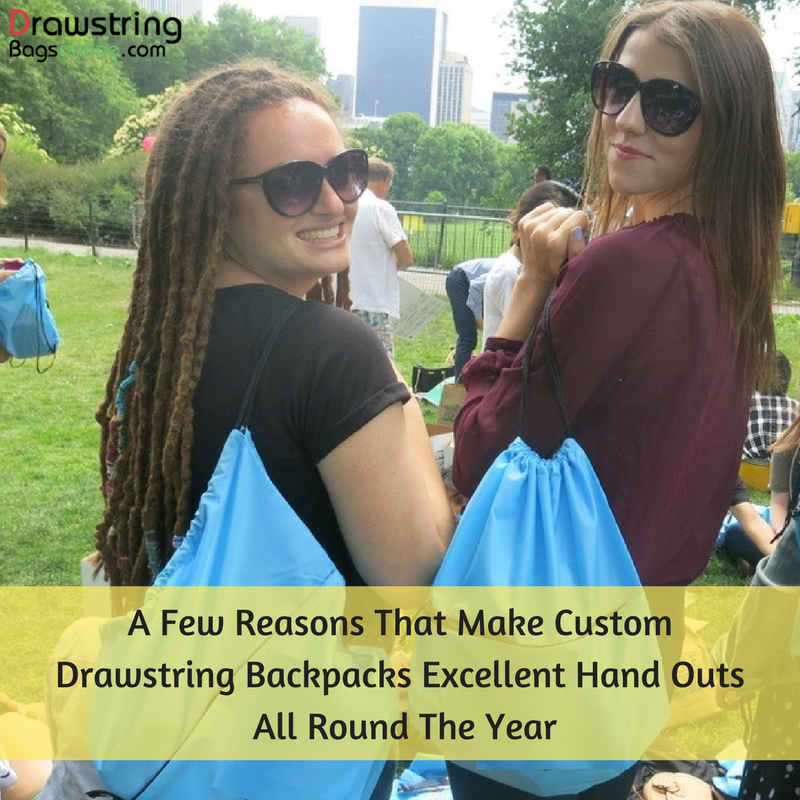 The biggest advantage of these bags is that these are designed to bear the daily grinds with ease and will not break easily. Offered in a range of forms and colors, backpacks are easy to pack, close and access. With only a single main compartment, drawstring bags that flaunt a minimalist design with no zippers or locks.
Ideal for all age groups, these gender neutral bags are simple, quick and easy, which makes it a popular. The clever design of pulling the string will let you close and open these bags. Ideal for quick packing for the gym or a day out at the beach, these bags are available in a range of models like nylon and mesh design bags that make it perfect for a game day or gym to haul the sneakers or the wet clothes without damaging the bag.
Drawstring bags are hugely popular among American school children for not just their schools but sports practice and arts and crafts classes among others. The solid color tones will set a perfect backdrop for your message and brand. Well suited for people who follow an active life style who needs a grab on the go bag that packs quickly, drawstring bags make wonderful corporate gifts, holiday season gifts and store promotional items. These bags that can be worn across the shoulder or carried in hands will ensure a wide angle display for your brand wherever your recipients go! Small and handy than a regular zipper back pack, these logo bags will fit perfectly under desk or in school lockers.
Here are some of the popular custom drawstring bags that can be considered.
Polypropylene / Non-Woven Drawstring Bags: These recyclable, incinerable bags that will not add up to the land-fills make a perfect choice for green themed promotions and events. The durable construction will make it last for a long time. Offered in a range of vibrant colors, these bags are offered in a range of colors and sizes. We can ship it free anywhere within the contiguous USA. Avail free design assistance and online design proof.
Cotton Drawstring Bags: Made of natural cotton fibers, these ecofriendly drawstring bags will make great choices for Earth day and environment awareness events and campaigns. Offered in various colors and price points, these reusable bags will make your brand leave a lasting impression among your audience.
Need more? Browse our collection and choose a model that matches your brand.