Custom Drawstring Bags- Branding that Goes everywhere
A low budget in hand need not make the promotions any less effective for marketers thanks to these hugely popular budget friendly handouts of drawstring bags. Custom drawstring bags are popular promotional items because these are budget friendly and have a tremendous promotional outreach.
If you want to make your business well spotted in tradeshows or motivate your employees there can't be a better way than popular budget giveaways like drawstring bags. Get your brand seen everywhere at a fraction of the cost of the customary promotional methods like billboards or TV ads. Made to look good and last long, drawstring bags will get carried along by your recipients wherever they go. Be it in office, road trips, picnics, adventure activities or just about anywhere, people use these bags on a regular basis. Reusable and sturdy, these bags will make a portable billboard for your brand and message.
If you do not have the budget to pull off a big advertising campaign, you can still make a lasting brand impression with these crowd pleasing custom products. Ideal to promote new products, motivate your team or thank your customers, Drawstring bags will never fail to create the hype and buzz for your business. Choose colors that match your brand color to make it impressive and opt fabric choices that will match the needs of your target audience.
With countless models to choose from, you may find it a bit overwhelming to find a bag that matches your needs. To help you get started, we have listed some of the popular drawstring bag models that you will find interesting.
Vertical Combo Polypropylene Drawstring Bags: These bags are well suited for outdoorsy clients and wanderlusts that require a bag with ample storage space. The dual pocket design of these bags will help your recipients to stock up their travel essentials without adding up to the bulk. Offered in a range of bright colors, these bags will never fail to make heads turn! Customize these with your brand or mascot to turn it into high profile store promotional items, team spirit items and more.
Non Woven Water Resistant Polypropylene Drawstring Knapsack: These tear resistant and water resistant drawstrings will bear the rough and tumble of outdoor holidays with a wide grin! Your message on these good looking and sturdy bags will get a lot of attention from anyone who sees it!
Pennant Polyester Drawstring Backpacks: If you are looking for custom gifts that ensure a wide angle brand display at low cost , look no further than these pennant polyester drawstring backpacks! Ideal for college students, outdoorsy people and road warriors , these attractive backpacks with an eye-catchy pennant pattern over it will give you a lot of branding mileage.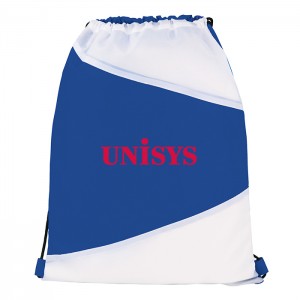 Sports Pack with Mesh Pocket Polyester Drawstring Bags: These mesh pocket polyester drawstring bags with reinforced eyelets will last long and take the beating of outdoor life in its strides. Put your brand on and see how these logo items will make a perfect brand ambassador for you!
Browse along to find more interesting bag models that will never fail to tug your hearts! Should you need any tips or suggestions, we are only a call away.